This 3D Knee Compression will instantly support your knee, giving you confidence in your walk!
According to studies, when we walk on the ground, our knees must bear a load up to 3-5 times higher than our actual weight. Therefore, it is extremely important having a knee compression sleeve that can support your knee whilst walking or doing any physical activity.
Our compression knee brace includes a unique cross strap design that offers extra support to your knee and prevents the sleeve from sliding down.
This unique Compression Knee Brace helps to tremendously reduce the pressure strain of your weight on your knee and meniscus for better protection.
Why The 3D Knee Compression Support Will Free You to Be Active Again?

Instant Pain Relief & Promotes Muscle/Joint Recovery

Adjustable, High Flexibility, Good Ventilation & Double Support Elastic Straps.

It Works as a Protector of Joints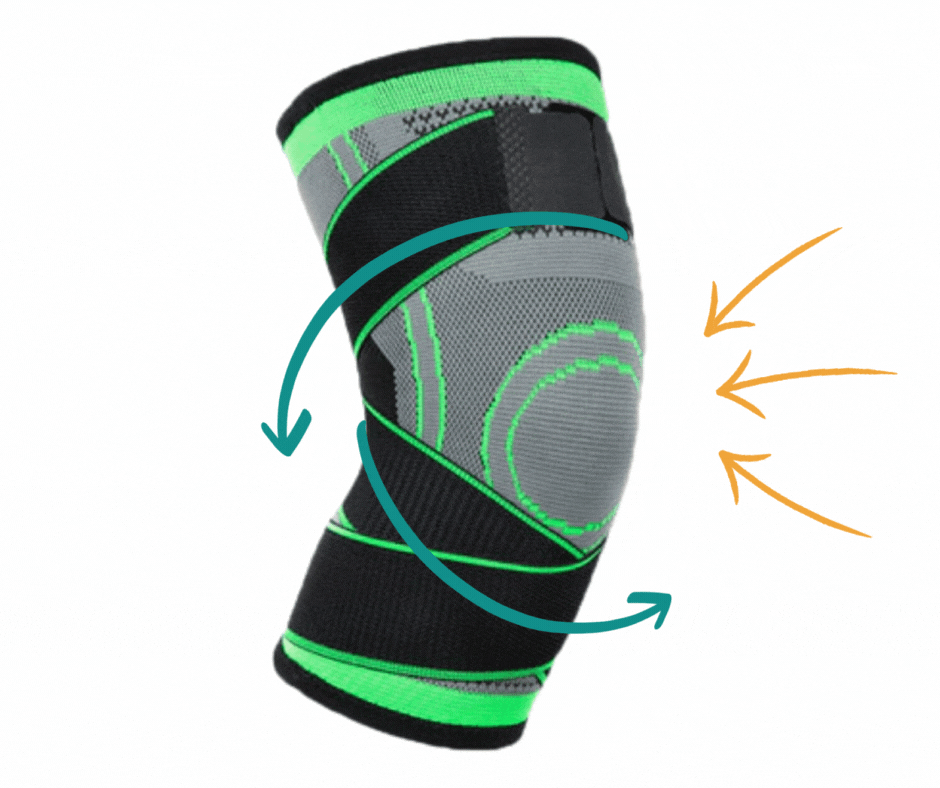 High-Quality Grade Material: Breathable & 360 Degree Protection
Walk & Exercise Without Knee Pain: Multi-Purpose Benefits

Increases Blood Circulation
Let's Hear What Customers Have To Say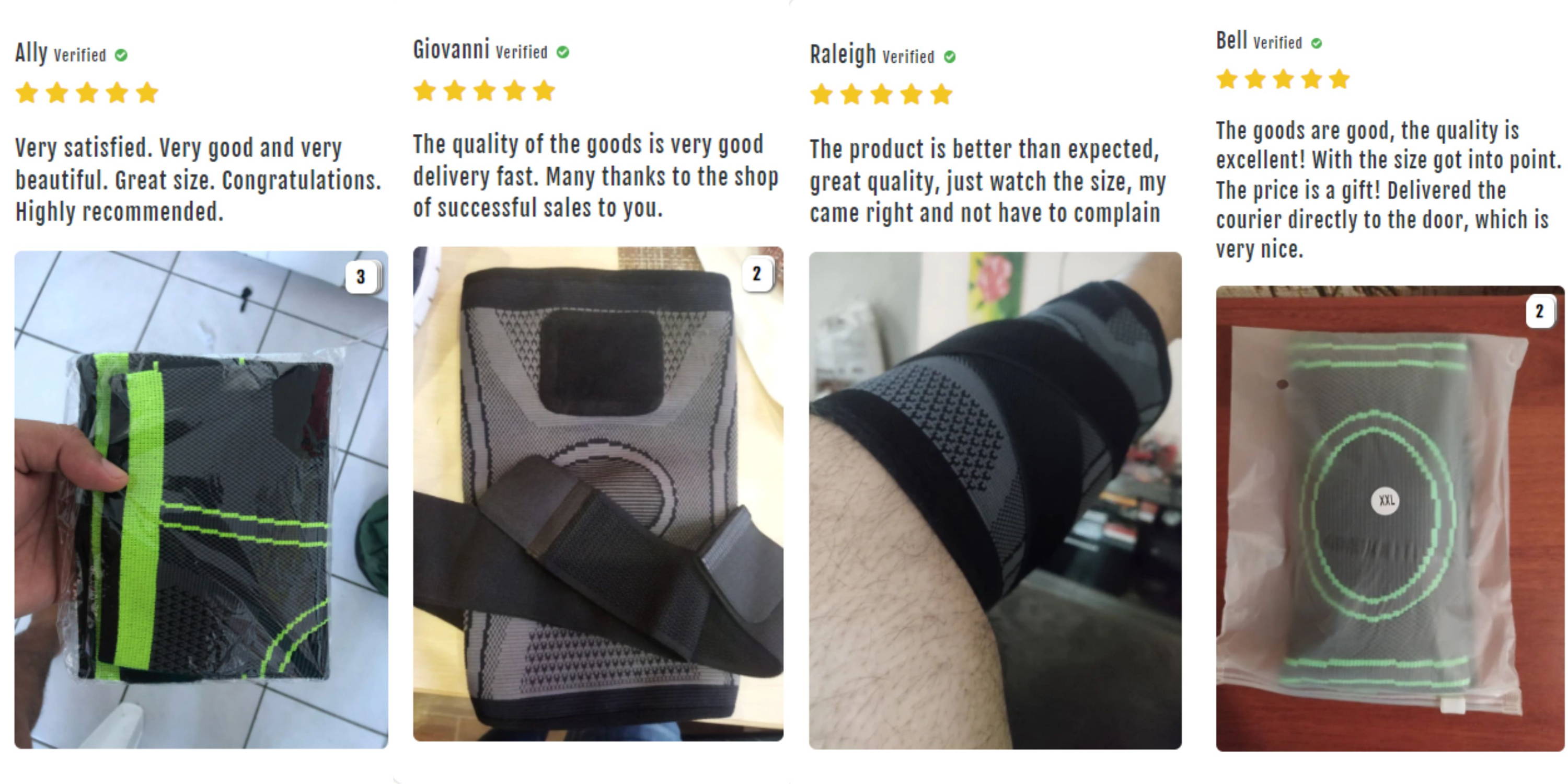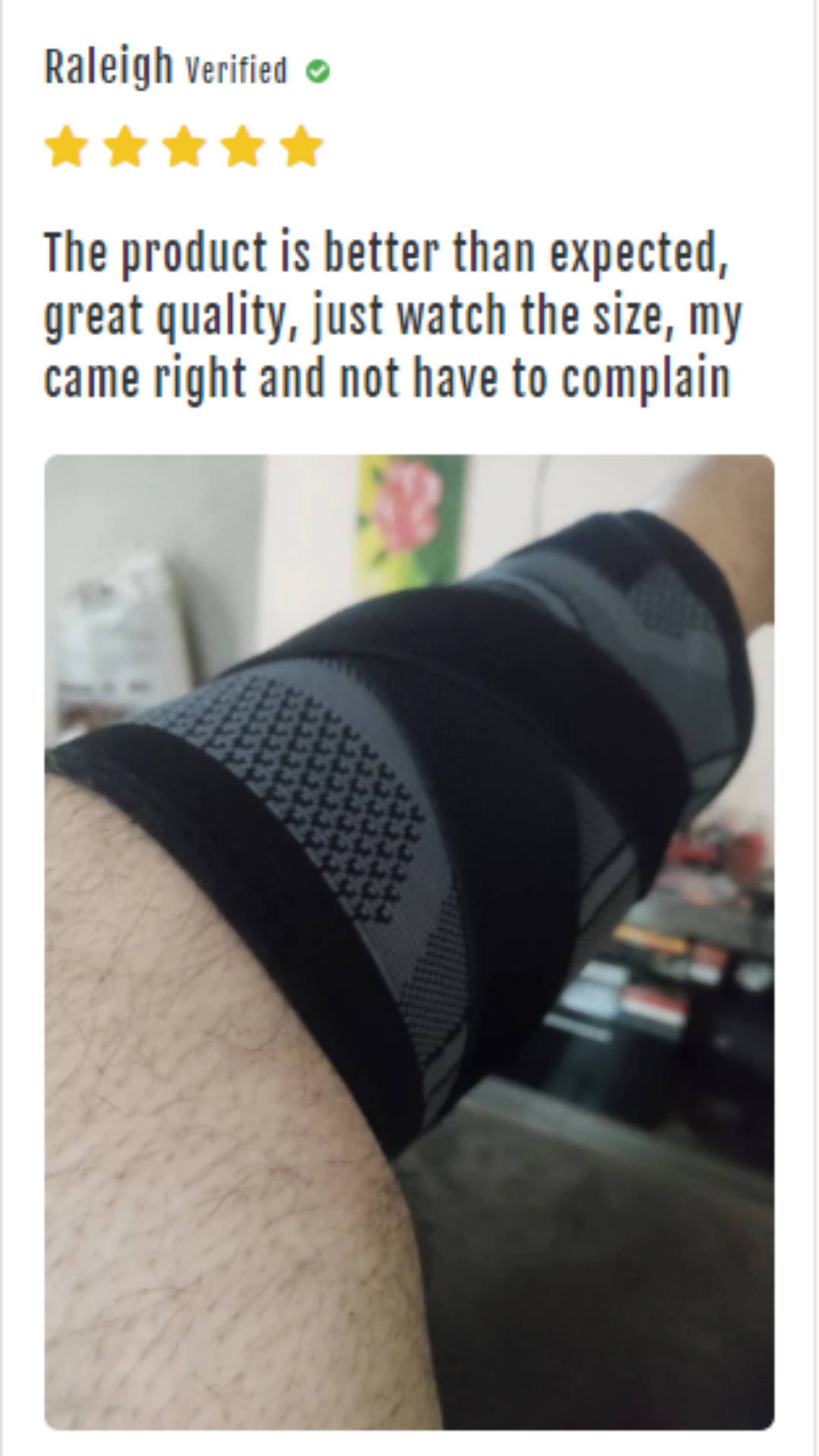 This is a demo review section. You are kindly recommended to use Ali Reviews app to design the same review section. To install and use Ali Reviews in Gempages, please check out this link.
CONFIDENCE to Walk & Exercise Without Knee Pain
It can be challenging to walk long distances, especially if you have knee pain. With the 3D Arthritis Compression Knee Brace your knee is wrapped in support & the flexible compression straps gives support to the medal & lateral ligaments to stabilize your knee whilst performing physical activities.
Don't Postpone It, Get Your 3D Knee Support to Keep Your Knees Protected and Relieve The Pain of Chronic Arthritis Today.
Frequently Asked Questions
Still have questions? Send us your question by filling out the form below, we will be happy to assist you.
Can I wear it under my clothes?
Yes, you can wear your 3D Compression Knee Support under your clothes.
How do I wash my 3D Compression Knee Support?
Machine or hand wash cold
Mild detergent
Tumble dry low
Do not bleach
Do not iron
Do not use softeners
Do not dry clean
Does the stretch deform the soft edges of the 3D Compression Knee Support?
No, stretching the 3D Compression Knee Support does not deform its soft edges.
How long it will take for my order to arrive?
All orders will be dispatched from our warehouse within 2 business days.
For customers within the United States, your order should arrive between 5-10 business days. It should be in the lower of that range, but it varies depending on your location.
For international customers, your order should arrive between 5-20 business days, depending on location.
Can I make changes to my order?
If you need to change your address on file, it is possible if your order has not been processed. Reach out to info@alleviaty.com right away.
We understand that buying things online can be daunting, especially for the first time, so that's why we offer a 30-Day Easy Return Policy -
Learn More
SO WHAT ARE YOU WAITING FOR?
The AT 3D Arthritis Compression Knee Support is the exact support you need to ensure you can feel confident to play sports and other physical activities without any limitations.
Don't let injuries rule your body any longer. Take action today!
This product regularly sells out and we do not want you to experience disappointment.

By ordering now, you will ensure your AT 3D Arthritis Compression Knee Support arrives as soon as possible.
Great Reasons to Buy from Us
📌Pain Relief Therapy Products Specialists
📌End-to-End Tracking for Every Order
📌Friendly Customer Support 24/7/365
📌Safe Payments via PayPal® or Credit/Debit Card
📌Have Questions? Email us: info@alleviaty.com